The latest release includes:
September 2022 Release Video Overview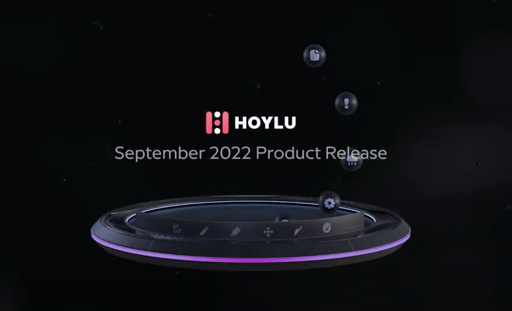 (Click the image to watch our latest release video now)
Core UX Changes
Our September Hoylu Release brings exciting new features to our Core UX – all allowing simplicity and organization of your collaborative projects.
Bookmarks in Overview Mode
Many of our clients have Workspaces with hundreds of pages. Our new Bookmark feature allows you to easily bookmark a page and navigate to it via Overview Mode.

To use this new feature:
1.

From anywhere in your workspace, simply Zoom Out on the page until this new icon appears

.

2. Next, click on the number icon of the page you'd like to bookmark.

3.
From here, you'll now see a home screen (start page) icon and a bookmark icon appear.

4.

If you select the Start Page icon you will now be able to name this page. This page will be your main page when logging into the workspace.

5. If you select the Bookmark icon you can now name the page you wish to bookmark.
a. You can do this on pages in use, or in blank pages to organize your Workspaces in advance of designing out each page.

6. Once you name your bookmark or start page, you can also design it with alternative colors

.
a. Simply click on the … icon next to the page and then select your pallet icon. A list of color options will appear.

7. You can also rename a bookmark or start page by click on the … icon and selecting the pencil icon

. This will allow you to type in the new naming convention.

8. Finally, when clicking on the … icon you'll also see the opt-out bookmark icon

- this can be used to remove the bookmark from the page or remove the page as being the initial start page.

9. We've now removed the "Start Page" (Home Page) icon from the top navigation bar and replaced it with the bookmark icon.




10. When selecting the Bookmark icon on the Navigation Bar you'll see a dropdown of pages, starting with your Start Page followed by additional bookmarks you previously created.
a. Simply click on the bookmark title you'd like to move to, and you'll automatically be navigated to the page.
b. Additionally, you can use the search feature and easily search for the bookmarked page by typing in the title of the page. From there, a list of all pages matching that title will appear.
With this new feature, you can now create multiple areas within your Workspace – allowing multiple teams to utilize the collaborative pages simultaneously. Simply create the Bookmark on the dedicated page, title the page with the team's name, and share the Workspace with designated users.
Improved Page Navigation
Understanding that many of our users already have extensive Workspaces built out and may not opt to utilize the new bookmark features right away, we've moved forward with improving our page navigation.
To navigate between pages, rather than bookmarks, simply:
1. Click on the Bookmark icon via your Workspace Navigation bar.




2. You'll see a search box appear where you can enter the page number you'd like to quickly navigate to.
This feature is a great way to quickly navigate large groups to specific pages. During working sessions, facilitators can guide users to "please navigate to page 10" – and users can quickly use this new feature to navigate to the page.

Connection Menu 2.0
Additional UX improvements includes Connections within the Workspaces. These new features include two main components:
1. New connection styles
2. New connection highlighting
To see these improvements in action and or a step-by-step guide, please watch our video tutorial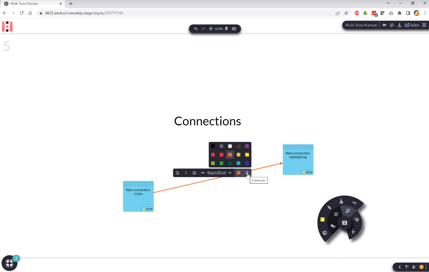 Agile Planning Module Enhancements
Holyu teams continue to make enhancements to our Agile Planning Module, including the support of JIRA integrations and interactive label improvements.
Custom JIRA Fields Support
Users can now display JIRA custom fields within Hoylu's Agile Planning Modules.

1. Admin users can double click on the JIRA task within the Agile Planning Module. In doing so, the JIRA Issue pop-up box will appear.

2.

As the Administrator of the Workspace, you'll see the JIRA Ticket Display Settings in the top right corner of the pop-up box.

3.

Click on the JIRA Ticket Display Settings icon, where a new pop-up box will now appear, with the option Custom Fields – Beta will appear at the bottom.

4.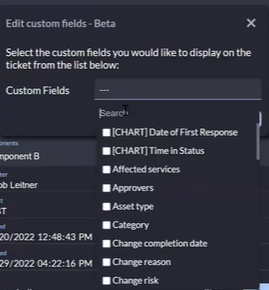 Simply click on the pencil icon

where the Edit Custom Fields- Beta box will appear.

5. From here, under Custom Fields you'll see a dropdown box appear, where you can select from any of the custom JIRA fields, specific to your JIRA instance.
a. You can also search for the custom field by typing in the field name.

b. Once the name field appears, simply click on the checkbox next to the desired field.

c. Once complete, select Update, to add the fields to your list.

✏️Note: You can select more than one custom field at a time.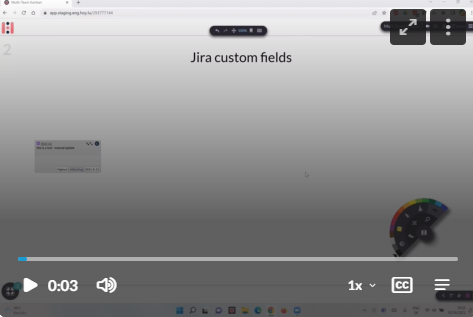 Watch it in Action – See a short demo on the new Custom JIRA Fields by clicking the image above.
Interactive Label Improvements
As part of our September release, we've made multiple updates to our interactive labels within the Agile Planning Module. Some of these updates include:
1. Moving between sections or columns (Previously Released)

2. Moving from whiteboard to containers (New)

3. Moving between boards (New)

4. Batching assignment of labels (New)
For a full overview of these new features, and a step-by-step video tutorial, please click the image below to watch the demo.
October 2022 Release
The October 2022, Hoylu Product release is tentatively scheduled for Tuesday, October 11, 2022, at 6 p.m. (ET).
Client Feedback
We value your feedback and build our Product Roadmap based on industry standards, best practices, and client feature requests. You can submit a feature request at any time, via your Hoylu Resource Center. Select the icon in your Hoylu environment to access Client Feedback, open a support ticket, or access our in-app training guides.