- Setting up Microsoft Teams & Hoylu Integration
- Pin Hoylu Workspaces to Microsoft Teams
Setting up Microsoft Teams & Hoylu Integration
To set up the integration:

1. Open Microsoft Teams

2. Go to Apps on the lower-left corner of the Teams screen

3. Using the Search bar at the top of the screen, search for "Hoylu"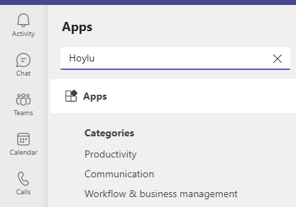 4. Hoylu will appear on your screen of suggested apps. Select Hoylu.

5. Add Hoylu to your Apps by clicking the "Add" button in the top right-hand corner of the screen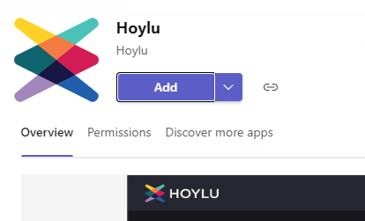 6. A prompt will appear to "Pin this app" - make sure you "Right-Click" on the Hoylu app and select "Pin."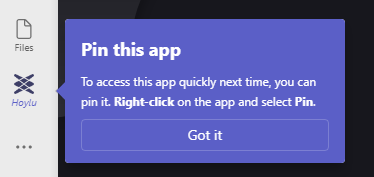 7. Log in to Hoylu when prompted using your normal Hoylu log-in. If you need to you can Sign Up for an account as well.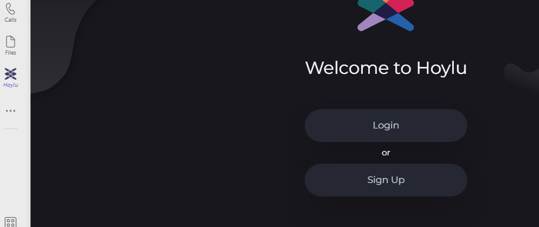 8. Now you can easily open your Hoylu Workspaces right inside Microsoft Teams.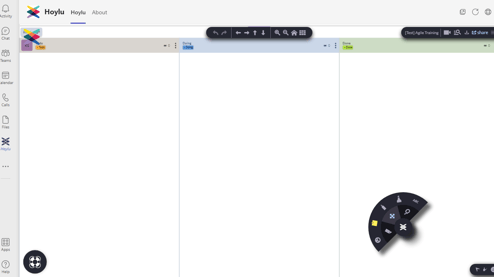 9. Invite colleagues to integrate with Microsoft Teams & Hoylu by sharing this page!
Pin Hoylu Workspaces to Microsoft Teams
To Pin a Workspace in Teams:
1. Select the Teams icon on your left navigation bar in Microsoft Teams. From there you can either create a new Team or use an existing Team.

2. Click the + on the upper navigation bar and then select Hoylu from your options.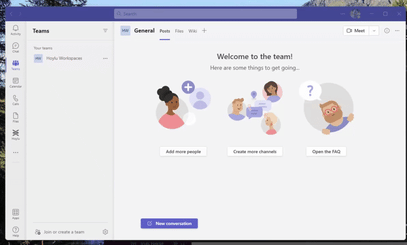 3. You should now see Hoylu on your General Tabs.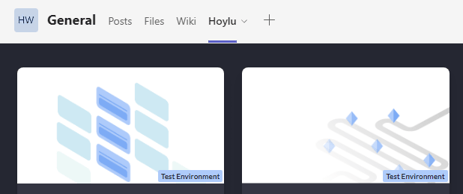 4. To pin a specific Hoylu Workspace to the Microsoft Teams channel, inside Teams, select "..." from the Hoylu Workspace you'd like to collaborate on with your colleagues and click "Share." Here you'll be able to copy the "Link Sharing" by selecting the copy icon.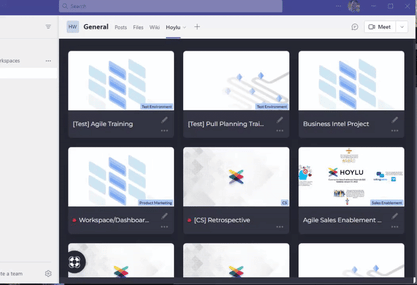 5. Once you've copied the link, in Microsoft Teams select the + icon. A pop-up box will appear where you'll then select "Website."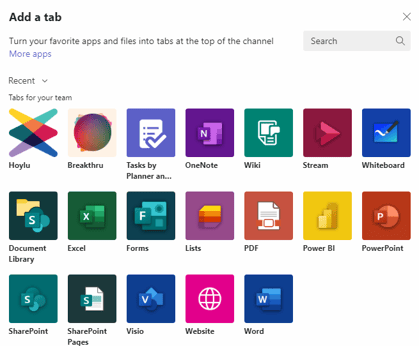 6. Under "Tab Name" enter the name of your Workspace. For example, ACME Project.

7. Under "URL" place the link to your Hoylu Workspace and then click "Save."

8. Make sure to have "Post to the channel about this tab" selected, so your colleagues can also access the channel for future collaboration.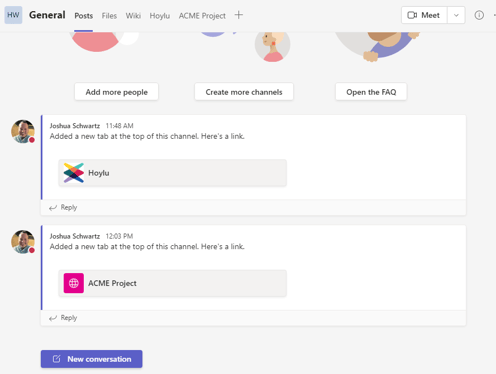 ✏️Note: New Users MUST log in/sign up via browser prior to accessing Hoylu in Teams for the integration to properly function.